Do you need to move or service a pool table? Our pool table movers have you covered! Fast, professional attention to your job.
Professional and experienced services by Chico Pool Table Movers
Guaranteed by a national organization
We are the only organization in the industry that offers 7 days per week support for our customers with the most technologically advanced systems in use today, call our professionals to get a price to move your pool table or if you only have general questions. Your satisfaction is what has made us the largest and most professional company in the industry.
In addition to billiard tables, we also offer shuffleboard movers!
Professional pool table movers of Chico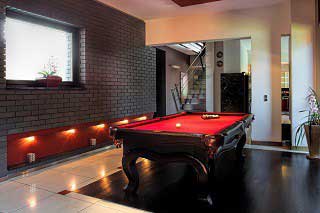 We specialize in professional pool table services and are the only company in the area with an exclusive guarantee issued in writing by a national organization.
A complete pool table move involves a complex process that could be dangerous especially if it's handled by inexperienced pool table movers. A pool table is a unique piece of furniture that can give you decades of enjoyment.
However, in order to keep the table in mint condition and also avoid potential damage to your property and even injury, it has to be serviced by professional pol table movers. We provide professional pool table moves in Chico and surrounding areas. The ABIA pool table movers of Chico will properly tear down, transport and accurately level your pool table for optimum playing experience. We handle everything from start to finish.
If we are moving your table and the current cloth is in good condition and you would like to reuse it, we can certainly recover with the existing felt. We also handle pool table refelting services with new material if you desire for an additional cost. There are about 30 different color options for both the residential grade felt or the tournament-grade Simonis Cloth to fit your decorative needs. Also,
We also service Roble, Durham, Bravo, Richvale, Dodgeland, Glenn, Butte City, Jacinto, Willows, Logandale, Bluegum, Artois, Wyo, Cory, Capay, Hamilton City, Nord, Anita, Cana, Vina, Los Molinos, Corning, Richfield, Richardson Springs, Helltown, Paradise, Magalia, Oregon City, Oroville, Palermo, Red Bluff, Sacramento, Roseville, Arden, Arcade, Redding, Truckee, Grass Valley, Yuba City, Clearlake, Orlando, Davis, and surrounding areas.
Proper pool table services should be handled by experienced pool table movers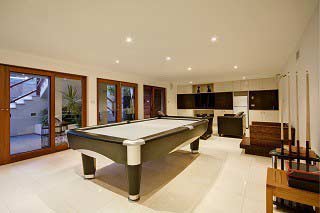 We move pool tables in homes, businesses and even garages! As we had mentioned moving a pool table is a complex and potentially dangerous. However not all pool tables need to be moved, some need to have the felt replaced or it needs a new set of cushions.
We provide expert pool table installations with precise leveling. The leveling of the pool table plus the quality of the refelting are factors that allow for professional playing experience.
The guarantee we provide will cover any installation and leveling issues for an entire year. Should your pool table go out of level, the felt or pockets become loose, or if the felt has any tears, rips, or has any manufacturer defects and the felt was purchased through us. Rest assured we will replace it at no additional cost. We handle every aspect of your pool table move, professional pool, and billiard installations and disassembles, moves to storage and more.
Choosing the right pool table installers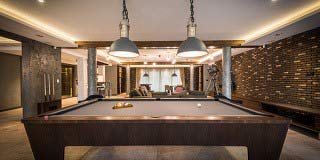 Do you have a nice billiard table that needs to be serviced? Perhaps you have an antique pool table that has been in your family for decades and the last thing you want is for it to not be properly serviced or damaged. We are a family-owned company that has been in the pool table moving and assembly industry for over 40 years.
We work with qualified pool table installers in many areas and we have been exposed to the common practices in the pool table service business at levels that no other company could possibly understand. We are the largest pool table service company in North America and our mission has been giving the client the best and most honest service possible.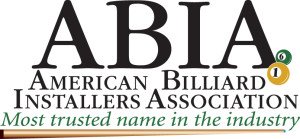 We are the only company offering a written 1-year service guarantee that covers everything that the other guys that charge minimal fees in order to just get your money can possibly offer. Traditionally in the country, pool table installers are a one or two-man service with no customer support, client guarantees or even legal businesses.
Our team can fill those weaknesses with an entire team of customer support personnel that will always be there, even when you can't find the installer. We have taken the business to a higher level and our mission holds true today as it did a decade ago. Improving client experience in the billiard industry is our primary cause.
Our pool table installers combined with our team of professionals gives our clients a risk-free service and we are completely dedicated to raising the standards in the billiard service industry. We will break down your table or move it from storage facilities, your garage or just another room in the house. If you need carpet laid do not try to move your pool table!
Let us handle that 800 pound monster for you. Taking the table out of storage? We can professionally install the pool table for you.
The reason why experienced pool table installers advise refelting at the time of installation
Please note that when moving a pool table we offer new cloth to recover at the time of installation. This happens to be the best time to replace the cloth on the pool table since the table is in pieces, so in case you're considering to add new cloth at the time of installation or just a good old refelting service because the felt worn out and needs replacement, let us know in advance and we will have the material ready in your desired color. Here we have useful information for you to find out the cost to move a pool table.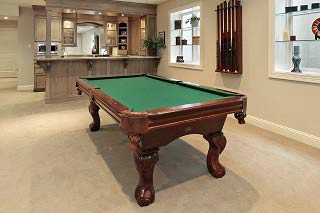 Our customers can choose from over 30 different colors of pool table felt. We use the highest quality pool table cloth the industry has to offer at this time. This cloth is also backed by our exclusive guarantee against tears or manufacturer's defects.
Our professional pool table installers work with standard woolen pool table cloth and tournament grade worsted materials as well. If you're not sure which size of the table will fit best in your room, check out a chart we have put together with the proper pool table room sizes to verify the pool table that will properly fit in the room where you want it setup.
Pool table installers backed by an exclusive guarantee in writing

The ABIA Pool Table Movers of Chico is backed by the only national organization in our industry. As Members of the ABIA, we are the only company in the area to offer you an exclusive 1-year service guarantee IN WRITING and issued by the American Billiard Installers Association.